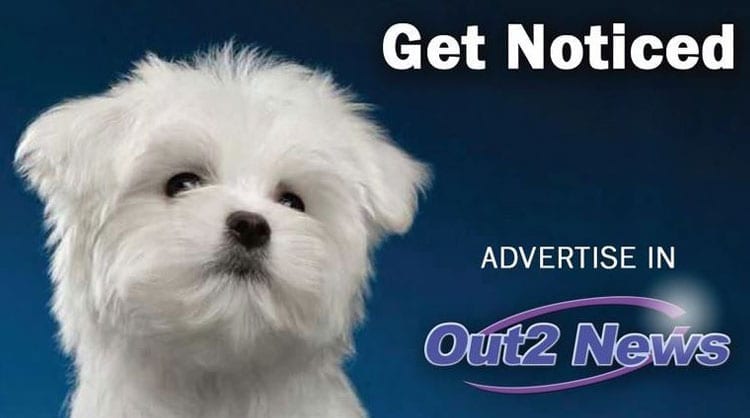 Keeping Communities Connected and People Informed
"GEORGIE" OUT2NEWS PET OF THE WEEK
Out2News Photo CONTEST!!
Life is always festive with a four-legged friend or two in your family. They keep you on your toes and are cute as heck.
Share your photo of your pet dressed up for the holidays!
Not to late to enter, contest goes through December 12, 2021. Winner of the contest will win a "Benay" gift basket for your furry friend. Winner will be announce on Monday, December 13, 2021
Send photos to: rshall@out2news.com
35th Hobe Sound Christmas Parade and Bridge Road Main Street Ribbon Cutting
Hobe Sound - On December 4, 2021 the Hobe Sound Chamber of Commerce continued their traditional Christmas Parade with a long awaited ribbon cutting for the Bridge Road Main Street. The ribbon cutting was done in front of the Hobe Sound Chamber building at 12:30 pm with many dignitaries in attendance.
Then the parade began at 1:00 pm and was led the Martin County Sheriff's Department followed by several dignitaries, vintage cars, floats...Click here for additional photos of this event!
Glitter & Glam Gala a Roaring Success!
In Photo: Committee Tammy Calabria, Marsha Cetta, Colleen Holmes, Kathy Carmody, Evie Klaassen, Katie Makemson, and Ally Fraser
Palm City - The Children's Museum of the Treasure Coast hosted its second Glitter & Glam Gala, a Jungle Safari themed event, at the exclusive Harbour Ridge Yacht and Country Club Saturday night and it was a roaring success. Guests were greeted by a live tiger, zebra and giraffe, not real live animals but performers Pete, Samantha and Colleen were outfitted and painted from head to toe to entertain and take photos with guests upon arrival. As the guests continued their entrance they were able to walk through a jungle themed lush rain forest full of plants and trees delivered by Leighton Farms.
This year the event had some unexpected surprise...Click here for additional photos of this event.
Local Church "Celebrates 90 Years" By Doing 90 Days of Community Service Projects
Article by: Jackie Holfelder / Photo by: Kherri Anderson
Few entities in Martin County have been blessed to thrive and survive for ninety years, but Port Salerno Church of God has done just that.
The venerable church will actually celebrate the important date during the weekend of December 3-5, 2021,... Click to read about Port Salerno Church of God.
O'Donnell Impact Windows & Storm Protection Invites Mr. Softee to Town
Article & Photo by: Robin Hall - Out2News
O'Donnell Impact Windows & Storm Protection invited Mr. Softee to come over the bridge and surprise many customers, clients and friends to their North located of O'Donnell Impact Windows & Storm Protection for some yummy ice cream! Bob and Amy Thorton are always doing so much for the Treasure Coast, just constantly doing such awesome things! Out2News is a BIG fan of both businesses. Out2News is the "Happy" news on the Treasure Coast, and this certainly is Happy News!
Out2News is your Treasure Coast online newspaper where you are the reporter, photographer and YOU report the news! Do you have something to say, an event to a talk about? An event you would like us to have covered.
Photo by: Courtesy of Robin Hall - Out2News.com
Out2News.com adheres to full compliance with C.O.P.P.A. (Children's Online Privacy Protection Act of 1998)
"Your Treasure Coast Newspaper & Photo Journal"
Copyright © 2021 Out2News.com LLC. All Rights Reserved.
Tykes & Teens November Breakfast at Flagler Center Sponsored by Colorado Pawn & Jewelry
Article & Photos by: Robin Hall - Out2News
Stuart - On November 16, 2021 Tykes & Teens had their annual breakfast with combined chambers. The sponsor for the breakfast was Steve and Evie Klaassen, owners of Colorado Pawn and Jewelry with two locations in Port St. Lucie and Stuart. The breakfast was catered by Berry Fresh in Stuart. Lots of yummy food and plenty of coffee!
Colorado Pawn and Jewelry is located in Stuart at: 1168 SE Port St Lucie Blvd, Port St. Lucie and 2275 S Kanner Highway, Stuart. The Klaassen's have been very generous throughout the community, with volunteering and many generous donations.
This is the 14th year for the Festival of Trees & Lights. This year the event is... Click here for additional photos of this event.
MartinArts Awards Presented at Lyric Theatre
In Photo: Ava Gunter (violin) recipient of Marties Student Performing Music recipient and dancer Rebecca O'Neill
Article by: Jackie Holfelder / Photos by: Liz McKinley
A welcome reminder of life as we knew it returned to the Lyric Theatre on November 2, when MartinArts presented its' highly-regarded MartinArts Awards (aka the Marties) to a live audience.
For those who might not be familiar with these awards, they honor students, professional artists, philanthropists, volunteers, and leaders in the local arts scene. Click here for additional photos of this event.