Martin Count Property Appraiser Property Data Inspector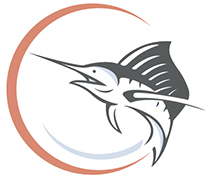 SUMMARY: Perform specialized job functions in identifying, inspecting, and processing real and tangible property data. The work is reviewed through observation, quality checks and achievement of performance measurements. This position reports to the Property Data Department Manager.
ESSENTIAL DUTIES AND RESPONSIBILITIES:
• Understands and executes the Property Appraiser's "Mission, Vision, and Guiding Principles."
• Physically inspects properties for address, sales verification, and permits, noting any renovations, improvements or new construction taking place since the last inspection. Verifies construction quality, special features, conditions of improvements, property usage, type, and location, as well as factors that may affect value.
• Performs desktop reviews for the 5-year physical inspections by analyzing and comparing aerials, oblique imagery, measurements, and other property information to the data in the CAMA database.
• Measures, sketches, and conducts data entry of complex new and existing structures, including large multi-story and/or angled properties on agricultural, commercial, and residential properties.
• Photographs properties inspected and uploads photos into the computer database.
• Performs quality control and reviews for Commercial/Ag and Residential Departments.
• Notifies and schedules appointments with property owners.
• Provides general information to the inquiring public and assists the public regarding normal procedures for obtaining the various services which are available to them through the Property Appraiser's Office.
• Protects property owner information in accordance with Florida Statutes regarding confidentiality.
• Maintains records in proper manner and detail, ensuring the accuracy, completeness, and currency of the data.
• Complies with established procedures, policies, Florida Statutes, and deadlines.
• Other duties as assigned.
OTHER SKILLS AND ABILITIES:
• Exhibits high level of attention to detail and quality control mindset.
• Actively supports the office-wide initiative of fostering a "lean" atmosphere that focuses on developing a culture of continuous improvement.
• Demonstrates excellent positive listening, oral, and written communication, and customer service skills to consistently represent the Office to all constituents in a manner that exceeds defined standards.
• Demonstrates proficiency in the operation and navigation of a personal computer.
• Establishes and maintains constructive working relationships, team-player attitude.
• Exhibits regular attendance, dependability, and promptness.
• Exhibits ability to work independently, be self-motivated and task oriented.
QUALIFICATIONS:
• High school diploma or general education degree (GED).
• Possess a valid Florida driver's license.
• Experience and/or knowledge of construction types, methods, and materials is helpful.
PHYSICAL DEMANDS: The physical demands described here are representative of those that must be met by an individual to successfully perform the essential duties of this job. While performing the duties of this job the individual is frequently required to walk and operate a vehicle. The individual is regularly required to stand, walk, use hands to finger, handle or feel objects, tools or controls, reach with hands and arms, talk and hear. Specific vision abilities required by this job include close vision, distance vision, peripheral vision, depth perception, and the ability to adjust focus. Occasionally the person may be required to balance, stoop, or lift up to 10 pounds.
This job description is not an employment agreement or contract. Management has the exclusive right to alter this job description at any time without notice.
PAY RANGE: $41,833-$62,780
APPLY: Daina Takacs
Director of HR & Operations
Email: daina.takacs@pa.martin.fl.us
3473 SE Willoughby Blvd., Suite 101
Stuart, FL 34994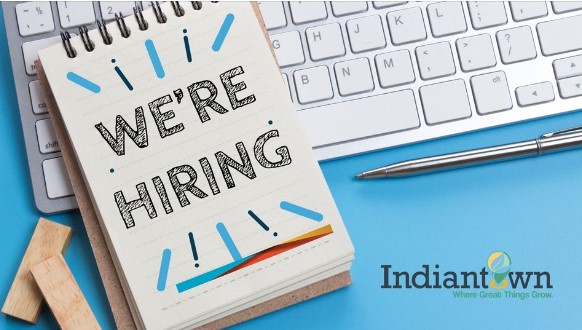 We're hiring! Come join our team, "Where Great Things Grow." Learn more about each position and apply here: https://lnkd.in/gsNe2yu5
- Public Works Director
- Public Utilities Director
- Water/Wastewater Technician-Trainee
- Parks & Facilities Supervisor
- Utility Billing Clerk
- Grants Manager
- Human Resource & Risk Management Specialist
- Accounting Clerk
- Records Clerk (Finance), Part-time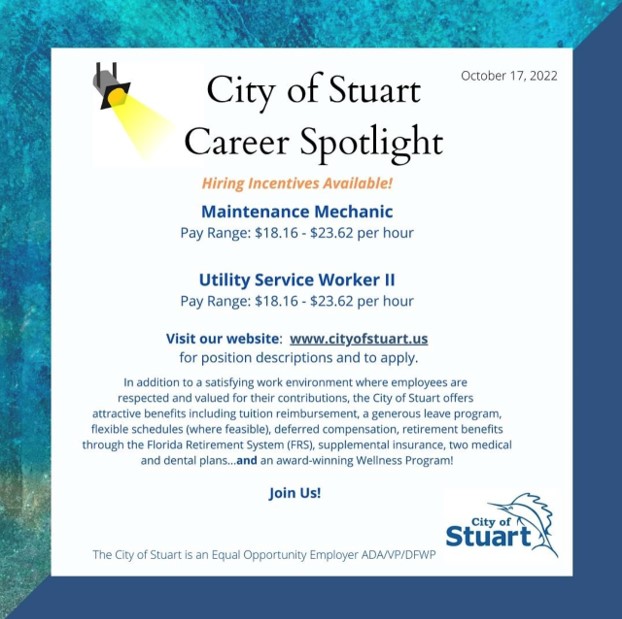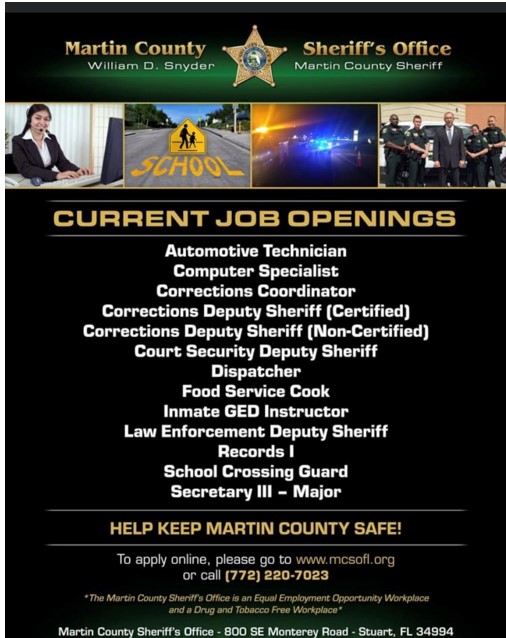 UNITED NURSING SERVICES has an immediate opening for a Human Resources Coordinator. Full-time M-F. Responsibilities include recruiting, hiring, orientation of field staff, and maintaining employee records. Excellent communication and customer service skills are UNITED NURSING SERVICES has an immediate opening for a Human Resources Coordinator. Full-time M-F. Responsibilities include recruiting, hiring, orientation of field staff, and maintaining employee records. Excellent communication and customer service skills a must. Details Here: https://loom.ly/r2B5LV4
We currently have 5 job openings:
• FOOD DISTRIBUTION WAREHOUSE ASSOCIATE / DRIVER
• THRIFT STORE DRIVER / MOVER
• WORKFORCE PARTNERSHIP AND CAREER COORDINATOR
• DEVELOPMENT AND OUTREACH COORDINATOR
• PRODUCTION FARM PACKING HOUSE SUPERVISOR
• PRODUCTION FARM SUPERVISOR
CLICK HERE to learn more about open positions and how to apply!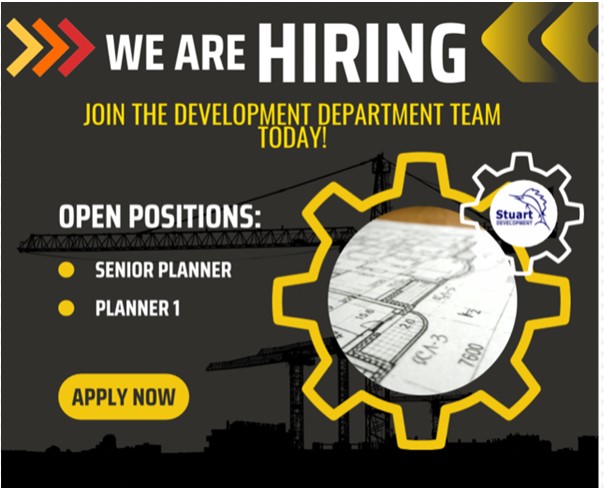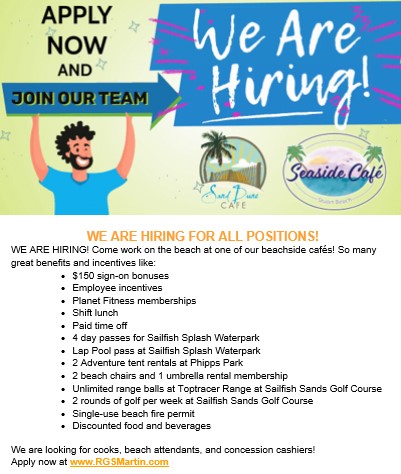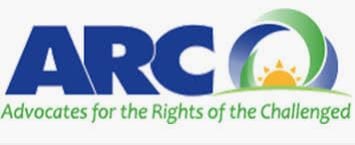 How will you make a difference in the life of an individual with disabilities? We're hiring caring individuals who desire to make a positive impact in the life of the people we serve. If you're looking for a career where you can make a true difference in the lives of others, please visit www.arcmc.org or call 772-283-2525.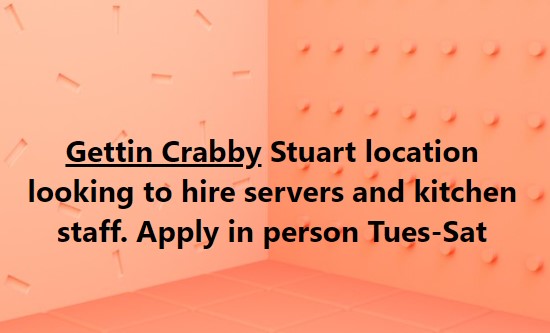 Martin County Parks and Recreation is Hiring

Seasonal opportunities for students
Stuart –Martin County Parks and Recreation is accepting applications to fill a variety of seasonal positions for students. Working with the Parks and Rec team is more than a job– it's teamwork and leadership development in a fun, people-focused environment.
Students can dive into the summer with opportunities to earn cash while having fun and learning career skills! Sailfish Splash Waterpark is hiring lifeguards and customer service attendants. Applicants must be a registered high school or college student. Customer service attendants must be 14 years of age or older. Lifeguards must be 16 years of age or older.
To apply online please visit www.martinjobs.com. For questions or more information, please email Sailfish Splash Waterpark at SailfishSplash@martin.fl.us.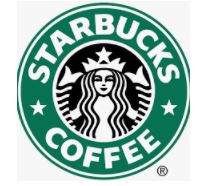 Join the Starbucks mission to inspire and nurture the human spirit - one person, one cup and one neighborhood at a time. Starbucks has immediate openings for Overnight Bakers to: Prepare beautifully assembled salads and sandwiches and freshly baked pastries and pizzas to be served to customers; Be responsible for preparing all food items, proofing of pastries and breads, the assembly and baking of products; Demonstrate culinary leadership by preparing and assembling quality food products in a fast-paced environment. From free coffee to competitive pay, Starbucks is proud to offer a comprehensive compensation and benefits package including 100% tuition coverage, health coverage with a variety of plans to choose from, stock & savings programs. and flexible schedules with PTO.
Fort Pierce City Commissioners are looking for a city resident to serve on the Board of Adjustment. The Board of Adjustment meets the 4th Thursday of the month at 2 p.m. in the Fort Pierce City Hall Commission Chambers as needed.
Members must be a city resident to be eligible. The board reviews and votes on variance and special exception applications along with appeals of Planning Director decisions. Their efforts allow for review of proposals to adjust, enlarge or develop property or structures in a manner not permitted by the Code, ensuring the health, safety and welfare of our citizens are protected. Service on this board requires annual financial disclosure filing with the Supervisor of Elections.
To fill out an application or see a complete list of Boards and Committees, meeting days and times and any specific qualifications, visit the City Clerk page on the City's website at: www.cityoffortpierce.com. All applications should be returned to the Office of the City Clerk, 100 N US Highway 1, Fort Pierce, FL 34954 or by email to lcox@cityoffortpierce.com.
Contact: City Clerk's Office - 772.467.3065