CLICK HERE FOR THE LATEST MOVIE TIMES!
CLICK HERE FOR THE LATEST  MOVIE TIMES!!
Martin Artisans Guild Summer Salon and One-Year Anniversary
Article by: Jackie Holfelder / Photo by: Martin Artisans Guild
It's celebration time for the members of the Martin Artisans Guild as they toast their first-year anniversary in the Palm Room & Artisans Boutique in Harbor Bay Plaza.
The Summer Salon will run from Wednesday, July 6 - Saturday, August 27 with some of Martin County's most talented and admired artists participating.
The opening reception is set for 5:30-7:30 p.m. on Wednesday, July 6.
Artists exhibiting their work include:
• Angela Krogen
• Barb Bucci
• Danuta Rothschild
• Deborah Bottdorf
• Dinija Berkien
• Dot Galfond
• James J.DeMartis
• Jane Lawton Baldridge
• Janis Clary
• Laura Kay Whiticar Darvill
• Margarita Nielsen-Palacios
• Maria Miele
• Marion Vitale
• Ray Reiland
• Sue Klahne
• Torenzo Gann
As always, the reception will offer live music, divine hors d'oeuvres and live music to help set the mood for a festive evening.
If you can't make that, there will be a Meet the Artist event on Wednesday, August 3 from 4-6 p.m.
The Palm Room & Artisans Boutique of Martin Artisans Guild is located at 3746 SE Ocean Boulevard in Sewall's Point. It is open from noon-6 p.m., Tuesdays-Saturdays.
Revel in the beauty created by the talented craftsmen of Martin County, find unique and one-of-a-kind creations in the boutique and support visual arts in the community.
For more, visit www.martinartisansguild.org/palm-room-events.
Helping People Succeed: Art for Living Calendar and Call for Artists
Article by: Jackie Holfelder / Photo by: Helping People Succeed
What would the holiday season on the Treasure Coast be like without Helping People Succeed's Art for Living Calendar? The festive and fabulous fundraiser has been brightening homes and offices for almost a quarter of a century.
Area artists are invited to submit examples of their original art work through July 5, 2022 for inclusion in the perennial favorite and there's a welcome mat out for new artists who would like to apply.
Thirteen artists will have their entry selected for inclusion in the 2023 Art for Living Calendar, all proceeds of which benefit Helping People Succeed.
All guidelines, criteria and responsibilities, as well as an application, can be found at www.hpsfl.org.
Serving the community for over 58 years, Helping People Succeed helps develop positive futures for individuals and families in Martin, St. Lucie, Okeechobee and Indian River counties by providing numerous parenting, mental health and behavioral support programs.
Helping People Succeed also provides support services designed to enable adults with disabilities to fully participate in volunteer and employment roles in our community.
For more information, visit www.hpsfl.org or call Glenna Parris at 772-320-0778.
IRSC Hallstrom Planetarium Announces the 2021-'22 Season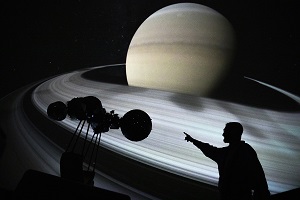 The Hallstrom Planetarium at Indian River State College (IRSC) announces the 2021–2022 "Starlight Series" season, continues the popular "KID SPACE" and shares a unique series of STEAM talks addressing Science, Technology, Engineering, Art, and Math (STEAM) and the humanities.
Starlight Series shows are presented Fridays at 7:00 and 8:30 p.m. and Saturdays at 1:00 and 2:30 p.m. Here are this season's shows:
The Secret Life of Fish - November 6, 6:00 p.m.
Learn about coral reefs and reef fish behavior as Dr. William Tyler, IRSC Professor of Biological Sciences, shares his vast experiences garnered from years of studying Florida's marine environment. Hear his marine biologist's perspective on Finding Nemo—what's right, and what's not, about this popular movie.
From the Big Bang to Puppy Dogs, the Story of Chemistry—January 22, 6:00 p.m.
Be amazed as Dr. Paul Horton, IRSC Professor of Chemistry, dynamically demonstrates the interaction of elements and compounds in a presentation sure to keep you on the edge of your seat!
Astronomy Day NASA Update - February 5, 4:00 p.m.
Hear Russell Romanella, former Director of Safety and Mission Assurance for the National Aeronautics and Space Administration (NASA) at the John F. Kennedy Space Center in Florida, discuss NASA, the space program, and the exploration of the Universe. The Treasure Coast Astronomical Society will provide exhibits with telescopes, activities for the family and guided views of the sky after the presentation—weather permitting,
The popular 'Kid Space' series, for children ages four to 12 at 11:00 a.m., is offered on select Saturdays. All adults must be accompanied by at least one child. Shows are planned for October 23, November 20, December 4 & 11, January 8, February 12, March 5, April 9, May 14, June 11.
"Starlight Series" planetarium shows, "Saturday Afternoon STEAM Talks," and "KID SPACE" are presented in the IRSC Hallstrom Planetarium. The planetarium features a 360-degree immersive digital OmniStar projection system and a state-of-the-art Spitz automated planetarium projector used to recreate the sky, sun, moon and planets among the stars on the 40-foot, domed ceiling during planetarium shows. Visit www.irsc.edu for a complete schedule.
Planetarium shows are recommended for adults and children over the age of 10. The air temperature is maintained at 72 degrees. Guests may wish to bring a sweater or light jacket.
Most planetarium shows are $5 and tickets can be purchased online at www.irsc.edu or at the box office located in the McAlpin Fine Arts Center lobby on the IRSC Massey Campus at 3209 Virginia Avenue in Fort Pierce, Monday through Friday, 11 a.m. to 3 p.m., or by phone. Call the McAlpin Fine Arts Center Box Office at 1-800-220-9915 to reserve seats.